Equipment
Holding North American Manufacturing Together
Haeco
In business for over 36 years, Haeco offers simple yet effective solutions for a full range of corrugated gluing applications including: Flexo Folder Gluing, Specialty Folder Gluing, Hot Melt and/or Cold Glue Taper Conversion Systems, Hand-gluing Systems, and Engineered Gluing Systems for laminating and gluing corrugated parts. Products include Pattern Controllers, Glue Verification, Jam Detection and Trim Removal.
Flexo-Folder Gluing Systems
HAECO's Flexo-Folder Gluing System ships as a complete, pre-wired, ready-to-run system! Installation has been simplified by pre-wiring and color coding all controls and cables – giving you the option to install yourself. This Flexo-Folder Gluing System is not only one of the most robust systems on the market but is also one of the easiest to setup and operate.
HAECO's Flexo-Folder Gluing System can be customized to meet your gluing needs. Whether you need the flexibility of non-contact gluing or whether you need options such as: Glue Pattern Control, Glue Pattern Verification, Jam Detection, Tab Quality Verification, Counter Ejection Output, or Registration Verification, HAECO has the solution to your flexo-folder gluing needs.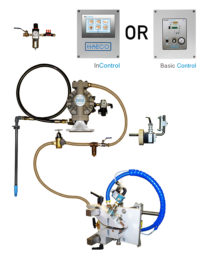 Flexo-System Contact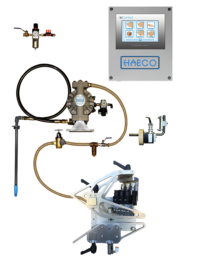 Flexo-System Non-Contact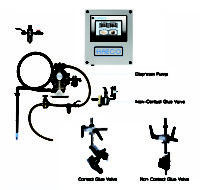 Specialty Gluer Folder
Aftermarket Parts
Haeco offers aftermarket parts such as: applicator heads, valves and valve-seal kits, as well as other miscellaneous parts as well. For more information contact our equipment team!
Trim Removal System
HAECO's TRS-3 Trim Removal System is designed to effectively remove left over trim on corrugated tabs and is completely adjustable for easy installation and setup.
The TRS-3 has the added feature of a product presence sensor and will shut off automatically at the prescribed setting.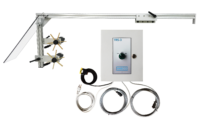 TRS-3