News
Holding North American Manufacturing Together
Mid-America Packaging Plans Their 8th Annual Toys for Tots Drive!
A tradition that started back in 2013 as a surprise to our very own retired Marine is now an ongoing tradition for the past 8 years!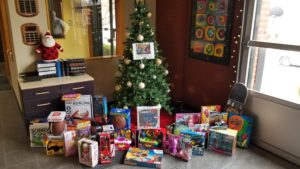 The tradition of the AJ & MAP Toys for Tots Drive started out as a secret Christmas present to Gene Kenold, AJ's Purchasing Director & retired Marine, back in 2013.
The customer service and marketing team knew the Toys for Tots annual event was very special to Gene and they decided that holiday season they would get the entire company together for a big Toys for Tots Drive as a present to Gene. The team far and wide, from Oregon, Oklahoma, Texas, Missouri, Illinois & Indiana all collected and donated toys.
After all the toys were collected at the St. Louis headquarters where the reveal would take place, they also printed pictures of the team across the country donating their gifts to present to Gene. And the rest, as they say, is history. Gene was overwhelmed by the thoughtful gift and it has since been a tradition. Every year the team collects toys and Gene helps to coordinate the drop-off. It's truly a beautiful event we look forward to every year.