Equipment
Holding North American Manufacturing Together
Paxton Products
With over 50 years of industry expertise, Paxton Products is the preferred solution for air drying, blow off, and its newest capability, air rinsing. Paxton Air Systems maximize performance for a wide variety of applications by coupling Paxton high-efficiency centrifugal blowers with custom-engineered air delivery devices.
PowerDry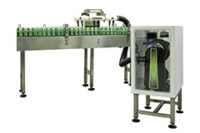 PowerDry
Power Dry is the most compact and affordable blow-off system on the market, used by major manufacturers throughout North America for 270-degree removal of moisture and debris in date coding and labeling applications. Paxton's patented PowerDry system lowers energy costs by as much as 80% through reduced compressed air usage in bottling, canning and other packaging operations. Paxton's blower systems have earned praise from clients not only for their efficient blow-of and drying capabilities but for the energy savings they deliver.
PowerDry Brochure
IONIZED AIR RINSING SYSTEM
The Ionized Air Rinsing Systems by Paxton Products efficiently removes particulates, dust and contaminants using powerful ionization coupled with Paxton's industry-leading centrifugal blowers and air delivery systems.  Ionized air rinsing systems provide static control and elimination, so that dirt and dust do not adhere to surfaces. Paxton's patented design increases performance while reducing maintenance, and if eliminating compressed air systems, reduces energy usage by as much as 80%.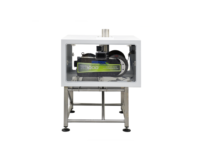 IONIZED AIR BOTTLE RINSER
The Ionizing Bottle Rinser by Paxton Products improves sustainability in bottling operations by eliminating the need for water rinsing, and/or air rinsing using compressed air.  Using a specially designed air knife, the Ionizing Bottle Rinser has been successfully qualified under all common test media:  styrodot, cardboard dust, and various debris.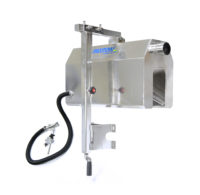 IONIZED AIR CAN RINSER
Dust and Debris removal prior to powder coating, painting or other coating and finishing methods, through static control and elimination
IONIZED AIR RINSING SYSTEM BROCHURE